Continuing the review of my older work digital painting work. I have been surprised already how useful this has been – reminding myself of some good work done previously as well as many lessons learnt and then forgotten.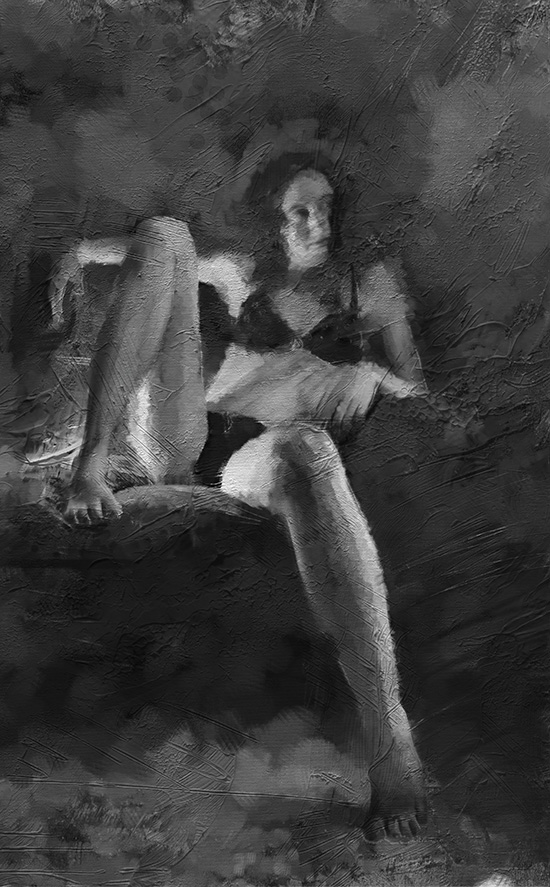 104 Digital Painting of Josie sitting
This was an attempt to a digital painting focussing on tonal work. I wanted to simplify things a little and just play with tone and texture. In the end I think there are some nice elements of painting interacting with the texture, but I am not sure that overall it doesn't just look very much like the texture is embossed again. Some bits were photo cloned back in, and ultimately look a bit clumsy. Too much of a different language I think.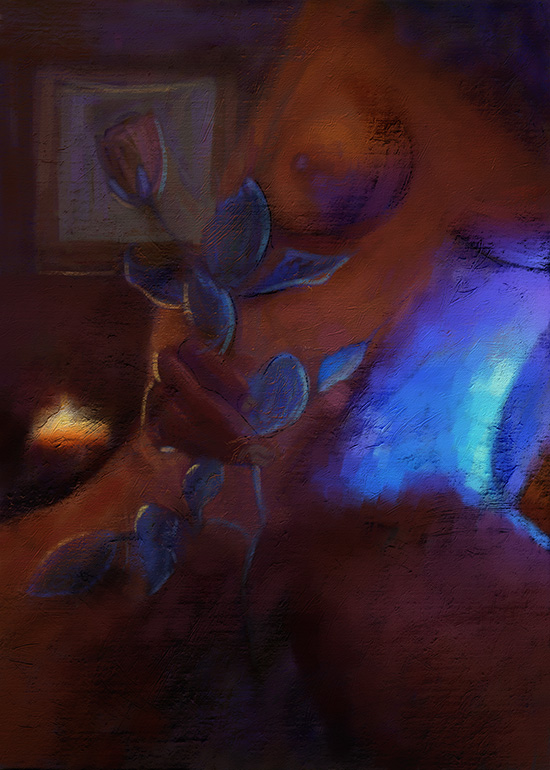 106 Digital Painting of Josie holding flowers
A bit like the earlier flowers painting in the previous post, some of the drawing doesn't sit well – too crisp and not a consistent language, but there are a few bits where the tools are starting to react better with the texture. I think that a consistent theme that is emerging is the balance of drawing versus texture. The stronger the texture the less detailed the drawing can be, or at least the harder it becomes to impose the drawing effectively. Also feeling that there isn't enough abstract elements here.

107 Digital Painting of Josie reflected in the mirror
This ended up being one of a number of sketches based on this pose. I really like the long format – created from multiple photos stitched together. The tools and the textures are starting to work more effectively I think.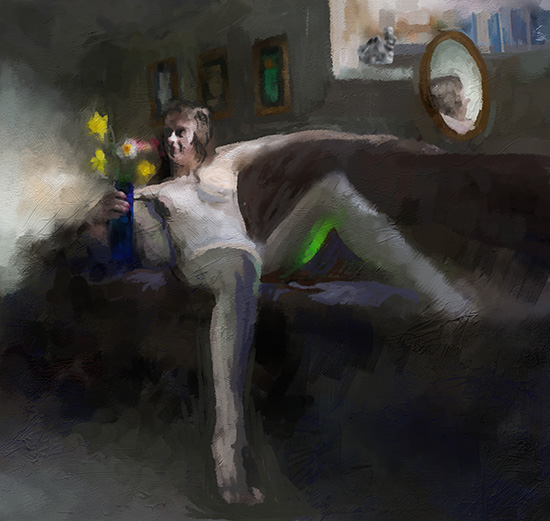 108 Josie sitting with flowers
It is a bit of a cheesy theme for a #digitalPainting I will grant you, but again wanted to play with level of detail and balance of texture. I think some of the abstract work is quite nice and some of the looser painting like the little pictures in the background is quite effective. I do like my mirrors but here I don't think the reflection of the face works.