As my primary interest is figurative art I work with life models (i.e. nude models) on a regular basis. This includes attending untutored life classes (usually at Leith School of Art). I also work with models privately typically working in my studio from home.
A Life Drawing Guide for Models
I hugely appreciate the time and effort that my models put in for me and consider it a privilege to work with different people. I have prepared the following question and answer guide to help you decide if you would like to model for me:
Where are you based?
I am based in Dovecot Way in Pencaitland, East Lothian, EH34 5HA
How can I get there?
If you don't drive, the best option is the Lothian LRT 113 service.
As I usually do drawing practice in the evening. I will be happy to provide you with a lift home after the session if required, allowing us to work a little later without worrying about bus times.
Is this just your house?
Yes, however I have an area that is set up as a studio space. I will sometimes work in other areas of the house, but we would always discuss to make sure you are comfortable.
How do I know this is safe?
You will have all my contact details beforehand. Make sure that you let someone know where you are going & when you will be back.
You will be invited out to meet up and see the studio space first & you are always welcome to bring someone with you, or you could arrange to have someone call you during the first session to ensure you are OK.
For photographic reference work I only work with professionals – you can see references from other models on my portfolio page on PurplePort
I can also provide other references from people that have done life modelling for me.
Will you be taking photos?
For my digital artwork I do use photography, but will hire professional models using PurplePort. For life modelling, I may do a very limited amount of photography, but usually only to help set the pose back up again (i.e. at break time or end of session). This is not essential, and is only ever done with the model's full consent being provided ahead of time. I am happy to use a model release form such as this
If you do not wish any photos to be taken, that is absolutely no problem.
When would I be working for you?
Typically in the evening, usually Tuesdays or Wednesdays usually for 2-4 hours
Would this be regular work?
I prefer to try and find models that I can work with regularly over an extended period of time, so yes it would potentially be every week. I have worked with some models for many months and a few for years.
How long would I be posing for?
A session is usually two to four hours, however you would get stretch breaks every 20-40 minutes typically, depending on how difficult or comfortable the pose is. I would usually mark the pose with chalk or tape or take a single photo to help you get back into the same pose if necessary.
Do I need experience?
No, not at all. I have worked with many first time models over the years and am more than happy to help people into the work. I can provide guidance and will do everything I can to make your experience as comfortable and enjoyable as possible.
Is there somewhere to get changed?
Yes there is a separate room and a bathroom for getting ready.
Do I need to bring anything?
Generally not, other than a robe or something loose to wear when not posing. I tend to keep the life drawing set up very simple, just a nude figure and maybe a sheet or something for contrast. Occasionally we might do something say partially clothed, but I would usually discuss that ahead of time or just use what you have with you.
What if I am not comfortable about something?
Good models are hard to find, so I treat them like gold-dust. I will do everything I can to try and make you absolutely 100% comfortable during your work with me. I will try to ensure that at all times:
The temperature is just right for you, not too hot or too cold, even if I am roasting 🙂
That you are as physically comfortable as possible & get breaks when you need them
That you do not feel embarrassed with what you are doing. I will always discuss things with you first
If something is not right then we can change it. I always work to ensure that I can trust that someone will tell me if there is anything they aren't happy with. I am constantly asking my models if everything is OK.
I have learnt from experience that you never know what may, or may not, embarrass some one, so I try never to assume anything and always ask and discuss what we are trying to do.
It is my first time and I am a bit nervous about being naked!
That is OK, most people are to begin with. I have worked with lots of people and I am very good at settling people in. You will quickly feel comfortable. Most people find that even by the end of the first session they are wandering around naked without a worry. Believe it or not, the hard work is actually the posing and staying still part! I have seen so many people naked I just don't bat an eyelid.
Everyone is different. Some people are happy to pose for one person but would feel too embarrassed to pose for a class because of being naked in front of lots of people. Others are happy to pose for a class because it feels distant, but would find working for one person too intimate and awkward. Some can do both without any issues.
If (and only if) it makes it easier for you, and only if you ask me to, I am even happy to be naked as well. Very occasionally some people feel that this would make it less like they are exposed, and more like being at something like a nudist beach where it is just normal to be naked.
It comes down to a simple question – what can we do to make you as comfortable as possible? Most models will agree that they find the whole experience really rewarding being part of a creative process, but that can only come from being really comfortable with everything that is going on.
What if it isn't for me?
I have never had a model give up after a session or two because they couldn't do it. Most people work with me until something changes (e.g. they move away, get a new job etc.) but if you really feel it isn't for you then that would be no problem, we can just wrap things up.
One of the nice things about working with someone privately and one of the reasons I enjoy it is because you do get to know someone very well. It is important therefore that it is someone that you can get on well with.
How old do I need to be?
You must be 18 or over without exception. For people that are under 25 I usually ask to see some form of photo ID which I will take a copy of for reference.
Do I get a break?
Sadly models are human and do require breaks 🙂
Breaks can be literally a minute for a quick stretch, or 10-20 minutes for a tea/coffee etc. If you need a break at any point, just ask.
For longer poses, we would usually mark the pose with tape or chalk, or take a single photo so you can get back into the same pose.
Your break times will be paid.
How much will I get paid and when?
Currently I offer £15 per hour, plus travel expenses. I am also sometimes able to provide a lift back home afterwards to save you time and travel expense.
You will be paid in cash, in full, at the end of every session without exception
Do you only work with female models?
No, not always, I do draw and paint male figures too, but generally I prefer working with female models.
What will you be doing?
I will generally be drawing using a digital device such as an iPad or a wacom graphics tablet using digital drawing programs. It is just like a traditional artist, just quicker and cleaner. There are lots of examples on this website.
Will there be other people about?
The modelling work is private, so you would only be naked in front of me. There won't be other artists in the session. Usually my wife will also be in the house, but the studio space is separate and private.
Will the artwork be made public?
Anything I draw or paint will be my copyright and may be shared in public including on this website, and social media such as facebook, instagram, twitter etc. Any photos would be covered by the
I usually refer to models by there first name only in blogs and social media, but I am happy to have them as anonymous (i.e. calling a picture "girl on sofa") if you do not wish to be identified in any way.
I have allergies – anything I should be concerned about?
Most of the work I will be doing is digital so there shouldn't be many paints/chemicals out to worry about, but please do let me know if you have any specific concerns.
I also have a cat, just in case you are allergic to cat hair!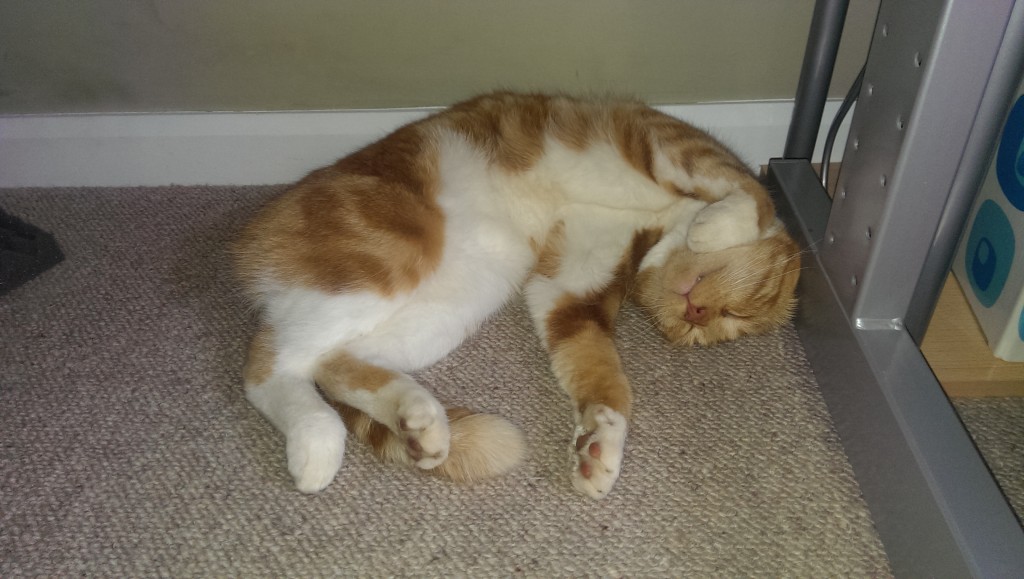 What if I can't make it or will be late?
Please let me know. You will always have my contact details. I appreciate that there can be genuine emergencies, but if you can't make it, please provide as much notice as possible. The one thing wrong a model can do in my eyes is to simply not turn up!
What about time of the month?
Obviously not an issue for male models. If you are comfortable modelling with a Tampax that's fine by me, if not, we can just arrange dates that suit you. If you need to cancel or rearrange that is no problem (but notice is always appreciated wherever possible)
---
If you have any other questions I will be delighted to chat through things with you.