Last session of the year – had the pleasure of working with the model Topaz for a 4 hour drawing session, starting with quick poses then moving onto a single pose for three hours (with breaks of course). Very good pose – very well held.
Quick Sketches
the quick sketches started of with a few 5 minutes followed by one 10 minutes:
Finally a 15 minute quick sketch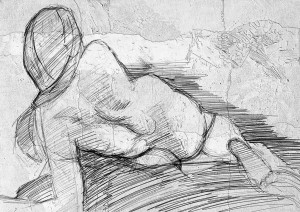 Finished Painting:
Quite pleased with the finished painting. Starting to get a nice balance of texture, shape and colour. Working almost exclusively from a limited palette has helped keep a colour consistency throughout I think.